business sergeant
military grade business results without the yelling and pushups.
business sergeant
Apply Military Systems to your business and outperform the competition
A-ten-tion! My name is Chris Hallberg, and I'm known in entrepreneurial/small business circles as the "Business Sergeant." As a business coach, my job is to make your job easier—it's that simple. How do I do that? By distilling the best practices of the military and para-military organizations and helping you apply them to your business. I believe that a military team building mindset plus an proven business operating system = a better, faster, more sustainable way to achieve business success. The military has a system for everything, and those modified for business systems can help you harness the commitment and focus of your employees and lead them to greatness by executing on your vision with military like precision.
PROVEN PROFESSIONALS USING PROVEN TOOLS
that PROVIde PROVEN RESULTS!
cHRIS hALLBERG AND HIS TEAM OF TRAINED PROFESSIONAL ARE READY TO HELP YOUR TEAM WIN ON THE BUSINESS BATTLEFIELD
Why is thinking in military terms so important? Because, to put it simply, business is war. Please consider the following statistics, especially if you're considering going out on your own as an entrepreneur or small business owner for the first time.
According to Bloomberg, eight out of ten entrepreneurs who start businesses fail within the first 18 months.
The Washington Post: "There is recent research by Harvard University's Shikhar Ghosh that three out of every four venture-backed firms fail."
To say that business is war is not just a statement. It's a mindset. Your competitors are literally battling you for the same dollar, and while they're not firing bullets they are firing sales calls and commercials and marketing collateral. How are you going to respond? How do you compete with these people on the field of battle? It's up to you to put the right tools—the right weapons—in the hands of your troops. The best teams follow a proven system, put the right people in the right seats, and hold each other accountable by hitting their number without any micromanagement. Chris and his team will help you build a great culture that "A" player employees will be attracted to and bring stability, predictability, and profitability to your bottom line year after year.
Chris and his handpicked team of EOS Implementers(R) help entrepreneurs and their leaders Implement EOS(R) with military grade precision, contact us today for a free 90 MIN. MEETING with your leadership team.
Chris Coaches CEO's and other top executives one on one using two 90 min video calls per month to help them maximize their leadership, management, and life experience.
Chris is also available for speaking engagements such as keynote addresses and full day workshops with business leaders all over the United States. Contact us today for more information on how to book Chris for your event!
"Leadership in the 21st century requires mental toughness, stamina, and patience. Being a market leader demands a new breed of leadership that can withstand the punishment of the daily grind and the people pressures along the way."
-Forbes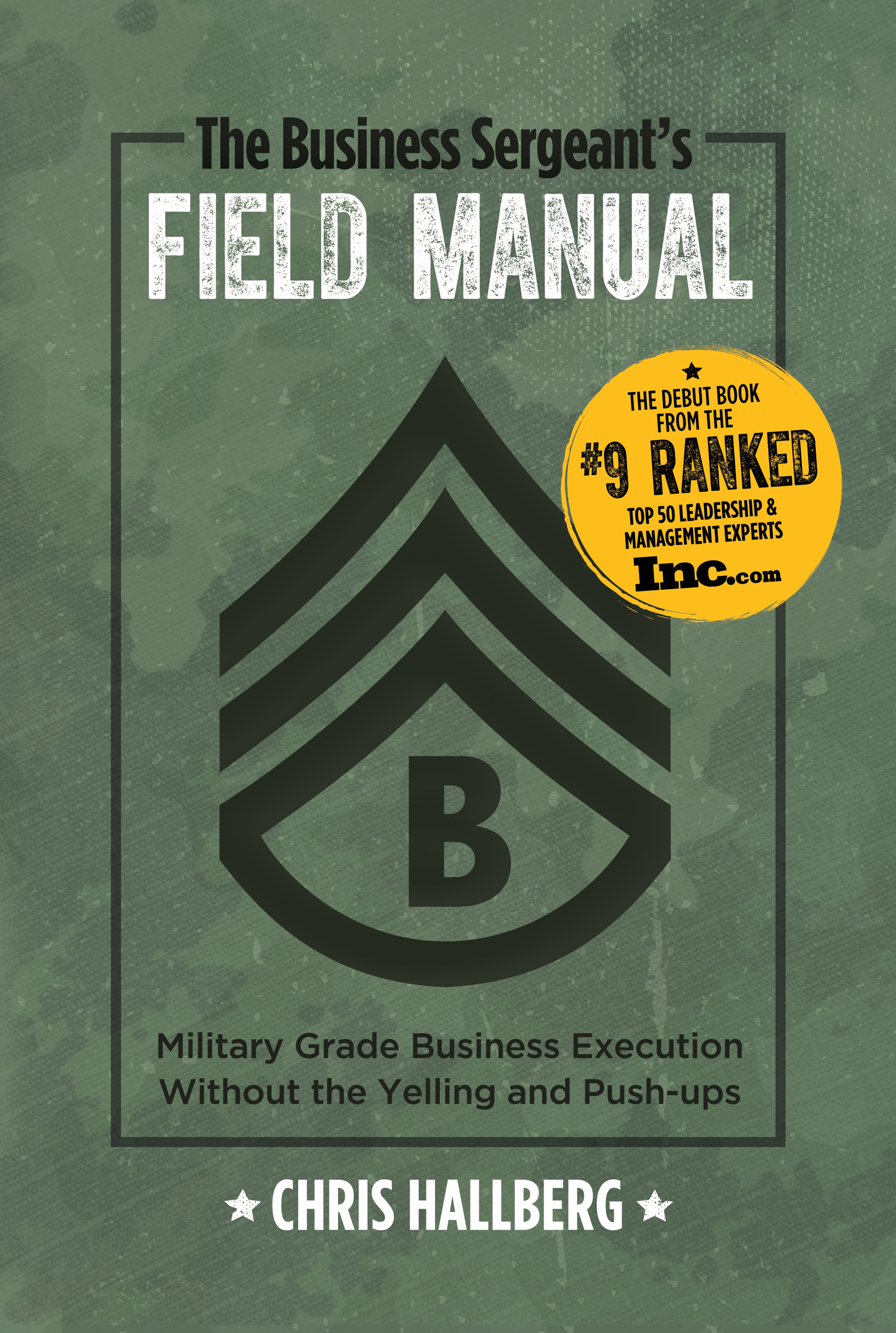 BUY THE BUSINESS SERGEANT'S FIELD MANUAL TODAY!
No one is more professional than I. I am a Business Sergeant, a leader of people. As a Business Sergeant I am proud of my team and will at all times conduct myself so as to bring credit upon them, regardless of the situation in which I nd myself. I will not use my position to modify or skirt the agreed upon rules. I follow the same rules as everyone else.
I as a leader, I set the standard for others to follow.